Sarantaporo conference: building the community in Community Networks
On July 7-9th researchers, practitioners, and key actors in the development of Community Networks around the world will visit one of the success stories of this movement in Greece, the Sarantaporo.gr Community Network. The event includes a 2-day guided visit in the Sarantaporo area and a public event in Athens, with local stakeholders, organized by the netCommons project and the Sarantaporo.gr Non-Profit Organization. 
Organizing gatherings and workshops where the real action takes place is important for both parties involved. The local community feels recognition and empowerment, and realizes the importance of their endeavor at a global scale. 
The people working on the global technical, social, economic, and political challenges that these networks face get the opportunity to progress their agenda in an environment that is full of information on how things work on the ground, but also full of inspiration and motivation being in contact with the people's particular stories related to their CN. 
The Sarantaporo.gr CN being located close to the highest and most popular greek mountain, the mount Olympos, offers also a great opportunity for informal discussions and socialization in nature, a collaboration experience that can prove much more productive  than airconditioned rooms andpowerpoint presentations, both in the short and in the long term. 
Schedule
Saturday, July 7
11:00-13:00 Guided tour in various villages that are part of the Sarantaporo.gr CN
13:00-16:00 Lunch and discussion with locals at Kokkinopilos village
17:00-22:00 Public event at the cultural center of the Sarantaporo village, including live streaming with NYCMesh
Sunday, July 8
11:00-13:00 Informal workshop between conference participants on impressions and future steps
13:00-15:00 Lunch and discussion with locals at Pythio village
15:00-18:00 Cultural tour (visit of ancient site, light hike on mount Olympos)
19:00 Dinner (place TBD) and discussion for our presence at Monday's public event at ImpactHub
Registration
Please express your willingness to participate by sending an e-mail to panayotis@nethood.org (maximum number of participants is 30).
The registration fee for the conference is 280EUR, including transport, accommodation, and food.
More details for the organization of the event are made available here (and will be updated soon): https://etherpad.netcommons.eu/p/sarantaporo-july-conference 
Readings
A recent blog entry by Vassilis Chrysos on the progress of the Sarantaporo.gr CN: https://blog.apnic.net/2018/04/20/empowering-local-communities-to-build-maintain-and-expand-their-community-network/
Participant List
1. George Klissiaris, Sarantaporo.gr
2. Achileas Vaitsis, Sarantaporo.gr
3. Vassilis Chrysos, Sarantaporo.gr
4. Panayotis Antoniadis, NetHood
5. Alexandros Papageorgiou, NetHood
6. Ileana Apostol, NetHood
7. Merkouris Karaliopoulos, University of Economic and Business
8. Aris Pilihos, Athens University of Economics and Business
9. Leonardo Maccari, University of Trento
10. Renato Lo Cigno, University of Trento
11. Virginie Aubree, University of Trento
12. Felix Treguer, CNRS
13. Leandro Navarro, UPC
14. Steve Song, Village Telco
15. Adam Burns, Free2Air
16. Evelyn Bodenmeier, thf.vision, Berlin
17. Jane Coffin, ISOC
18. Ramon Roca, guifi.net
Photos from the event
Welcoming the special guests of the Sarantaporo conference at Kokkinopilos village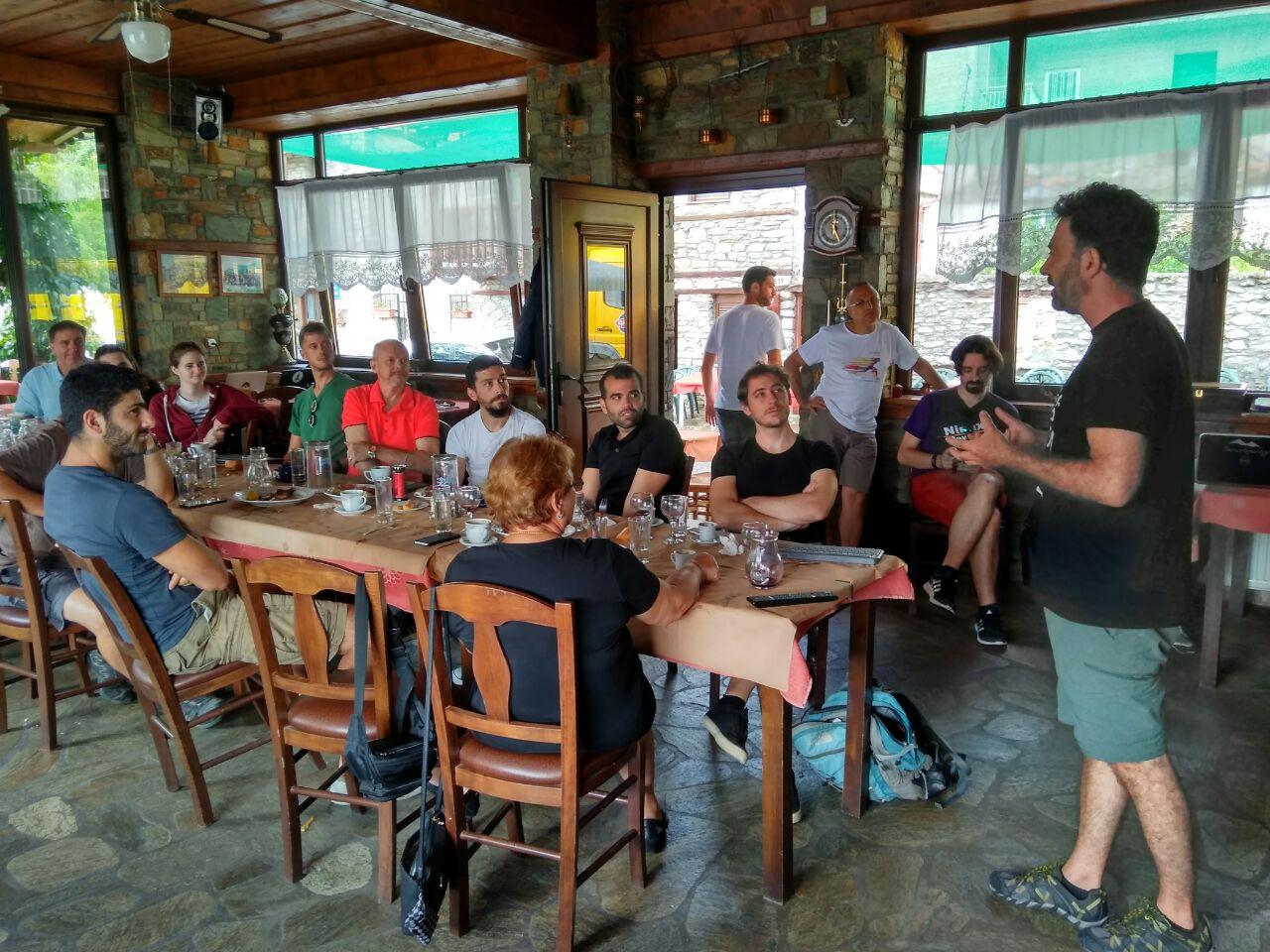 During the public event at Sarantaporo village we establish the "CN Encounter #1" between Sarantaporo.gr and NYCMesh members, Joly MacFie and Brian Hall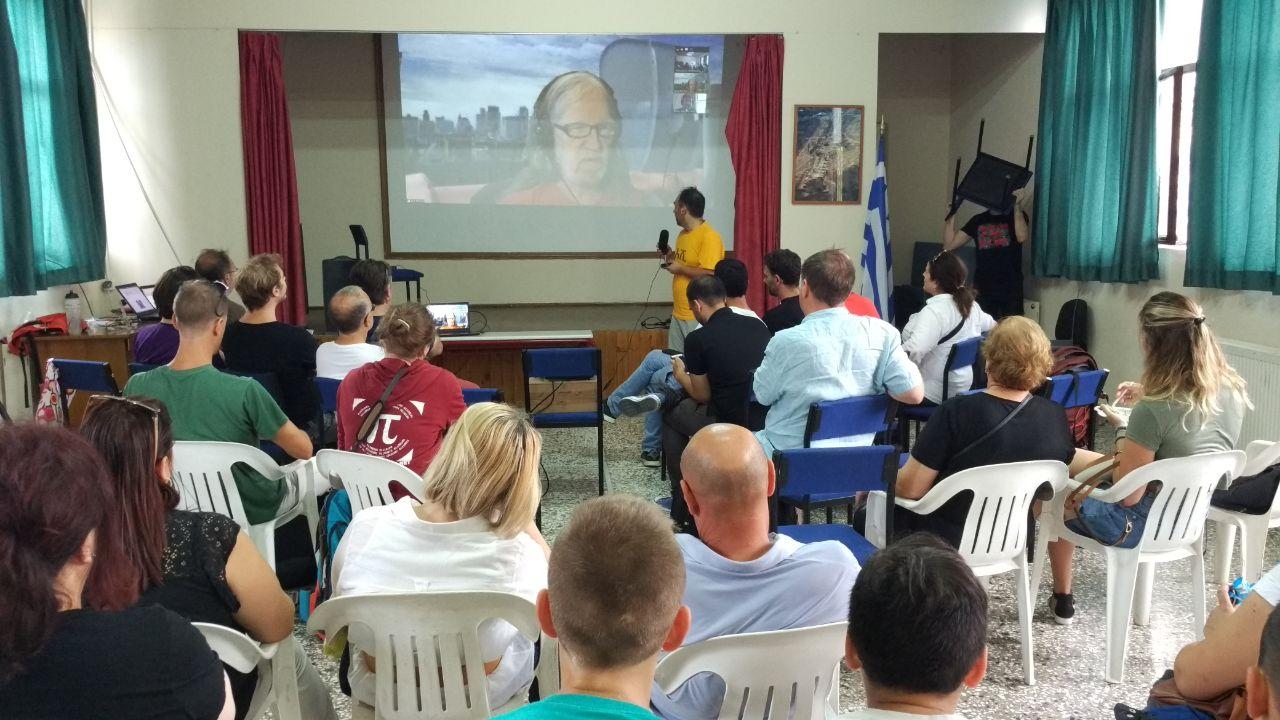 The local community sharing their experiences from participating in the development of the Sarantaporo.gr CN